Email Marketing Service and Unlimited SMTP Server For Mass Mailing.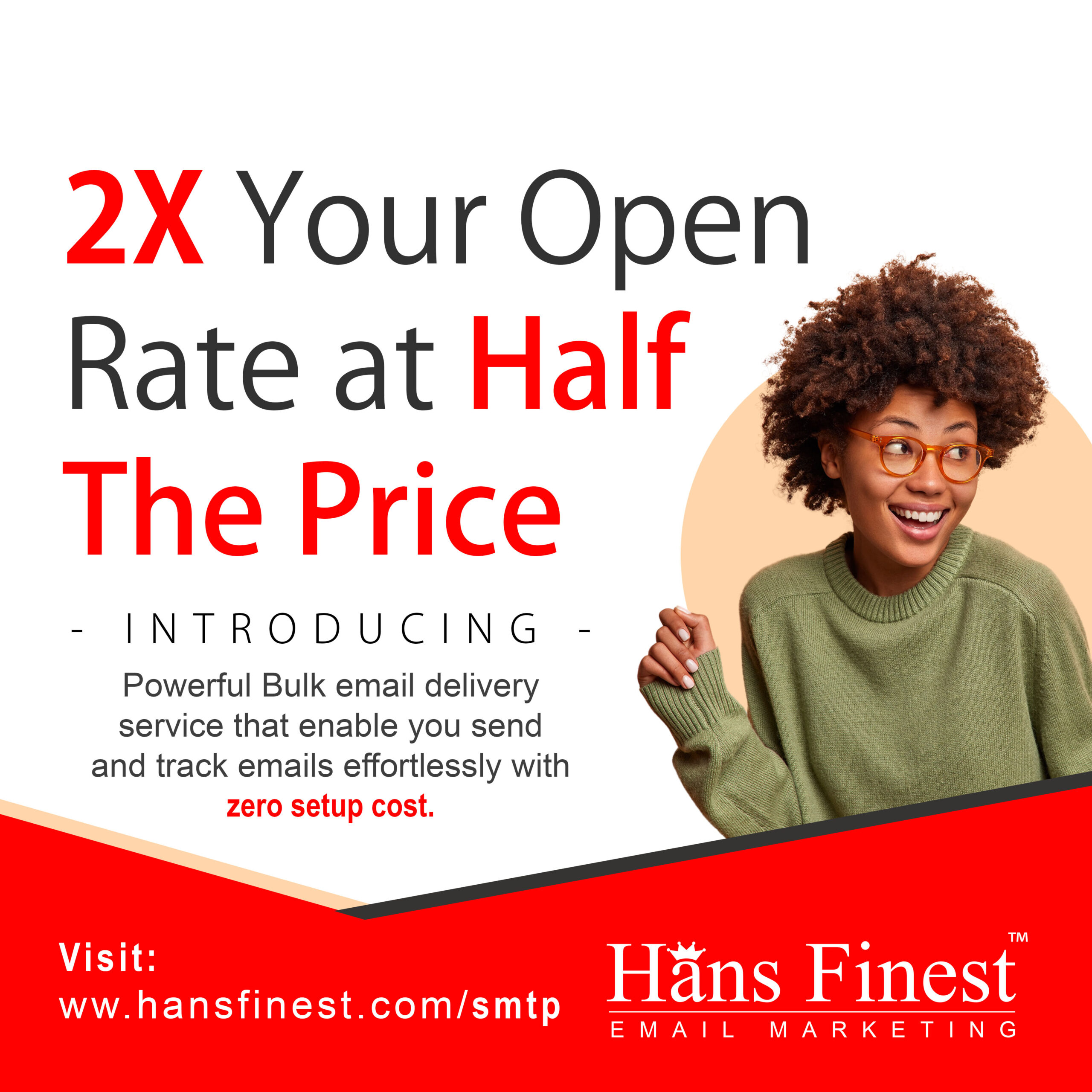 Email Marketing Service and Unlimited SMTP Server For Mass Mailing in Nigeria | Unlimited SMTP Server for mass mailing in Lagos | Best Bulk Mailer Software Download 2021
Emails only matter when it gets delivered into Inbox, We will like to introduce to you our new Powerful Bulk email delivery & SMTP service that enable you to send and track email campaign effortlessly with high deliverability and zero setup cost.
Visit https://hansfinest.com/email-marketing/ for more information. or call or whatsapp +2348094909184
Email Marketing Server
Hans Finest Email provides SMTP Server (bulk email server) for mailing and it's easily integrated into your sending application. You can send unlimited emails through our bulk email server. Our bulk email server is suitable for sending out transactional emails, email marketing companies, and most other high-volume applications. We also provide Email Applications.
About Email Server
Email Market has emerged as a great solution where a user can send mass emails, bulk mailing, promotional mailing to their subscribers, promotional emailing to mass list, and generate authentic responses. Using an Email Marketing Server one can easily send thousands of emails in few hours of time. The technology behind mass mails is SMTP Server which is actually SMTP IP or a server IP address used to send mails without affecting the actual website.
Sending Mails through Bulk Email SMTP / Email Marketing Servers / Mass Mailing Servers is easy as you get IP rotation in the server. Also, Exim is configured with Cpanel which makes you use Bulk Email SMTP / Servers with any software or outlook or using direct webmail to send an email.
You can buy more IPs @ USD 6 per IP (Clean IPs) but replacement of IP would not be possible. you get complete access to your SMTP and you can manage everything at your end. We can set IP rotation for you using cron so every 10+ minutes interval your IPs will rotate. you can create multiple domains in your SMTP. We do not restrict our users for creating any limits for domains in SMTP. The sender cannot determine that an email will go to inbox or spam. It is detected by the recipient mail server only, we can help you our best to have all the necessary settings done rest is the recipient server detections.
Content delivery plays a vital role in sending an email. As per the latest algorithm of Gmail if you are sending the same subject and content email to multiple non-opt-in users then there is a huge chance of your email/domain/server IP getting blacklisted in multiple servers
Visit https://hansfinest.com/email-marketing/ for more information. or call or WhatsApp +2348094909184
Frequently Asked Questions (FAQs) For Bulk Email SERVER
Email Marketing Service and Unlimited SMTP Server For Mass Mailing

WHAT KIND OF IPS ARE PROVIDED?
As IPv4 are already on its finishing stage, all IPs we provide are reused IP addresses.
CAN YOU REPLACE MY IPS?
Within 24 hours of Server Delivery if you are facing any problem, yes we can. After that, you can always buy additional IPs.
MY DATA IS JUNK, WILL I GET BLOCKED?
You can request for Free Spam filter, we can provide one in the backend which can filter your junk data to avoid you getting blocked.
IS THERE ANY REFUND POLICY?
We do not offer any kind of refunds for Bulk Email VPS.
CAN I HOST WEBSITES?
Bulk Emailing VPS normally get filled with logs, the hosting website is not suggestive on them.
CAN I SEND TRANSACTIONAL EMAILS?
Its' your VPS with full access you can use it for transactional or promotional emails.
DO I GET GUARANTEED INBOX DELIVERY ?
We can only provide you VPS from which mails will go out. Are they going to Inbox or Spam depends upon your content and mail size. We do not provide any such guarantee at all.
ANY SUGGESTION HOW TO GET BETTER INBOX CHANCES ?
Always create your mailer in HTML and Text, keep 50-50 ratio of both. Always use unsubscribe link. Change your mailer subject and content after intervals or rotate them.
IS THERE ANY BACKUP SERVICE ?
You have to keep backup as we do not offer any backup Service for Bulk Email VPS.
Visit https://hansfinest.com/email-marketing/ for more information. or call or whatsapp +2348094909184
What is SMTP?
An SMTP server is a computer that receives outgoing mail messages from users and routes them to their intended recipients. All SMTP servers implement some version of the Simple Mail Transport Protocol, and many that run Unix use the sendmail program.
What is Dedicated server?
A dedicated server is a single computer in a network reserved for serving the needs of the network. For example, some networks require that one computer be set aside to manage communications between all the other compute$ A dedicated server could also be a computer that manages printer resources. Note, however, that not all servers are dedicated. In some networks, it is possible for a computer to act as a server and perform other functions as well.
Related Tags
Email Server, Email Marketing Server provider in Nigeria, Email Marketing Server in Lagos, STMP server provider, Dedicated Server in Nigeria, Dedicated Server provider in Ngieria, Email Marketing service, Dedicated Server in Lagos, SMTP server for email marketing, Best SMTP serverfor mass mailing, Dedicated SMTP server, Dedicated SMTP server for bulk mailing, SMTP server for bulk email sending, Dedicated server for email marketing.
Email Marketing Service
Email Marketing means marketing through electronic mails, it is the most effective internet marketing tool in digital world. Most of the companies as they are using email marketing tool for there brand promotion, It is the direct marketing tool for commercial communication and there promotion. Through Email Marketing you can reach your targeted customers easily, you can manage your subscriber and you can send your promotional offers on regular basis to them. Through Our Email Marketing Tool you can manage your Subscriber easily, if they will not want to receive your promotional offers than they can Unsubscribe from your database list and instantly there email id will be remove from your database, you can provide a subscriber form also to your client so that they can subscribe again in your database.
About Us:
https://blog.hansfinest.comHans Finest Digital Solutions is the 2019 winner of Africa Business Excellence Awards for the best Full-Service Creative Design Agency – Nigeria by MEA Markets, we specialize in Website Design & Development, Branding, MLM Software, WhatsApp Marketing Software, Virtual Phone Numbers, Data Analytics, Google Email Extractor, and Email Marketing.
Visit https://hansfinest.com to learn more about our business solutions and technologies.
Email Marketing Service and Unlimited SMTP Server For Mass Mailing